SAN FRANCISCO BALLET SCHOOL DIRECTOR
Patrick Armand
DIRECTOR, SF BALLET SCHOOL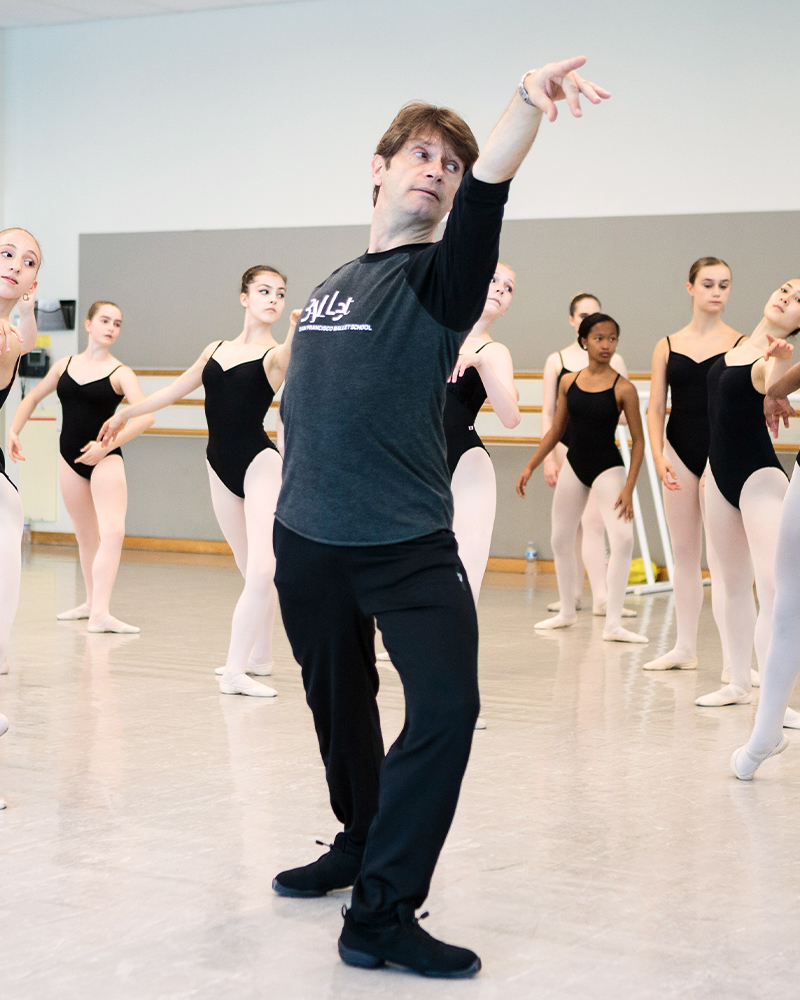 BIOGRAPHY
BORN

Marseille, France

COMPANY MEMBERSHIP

Joined the School in 2010 as Principal of the Trainee Program
Promoted to Associate Director in 2012
Named Director in 2017
Born in Marseille, France, Patrick Armand studied with Rudy Bryans, his mother Colette Armand, and at the Ecole de Danse de Marseille. He won the Prix de Lausanne in 1980 and continued his studies at the School of American Ballet and at the Centre de Danse International in Cannes. In 1981, he joined the Ballet Theatre Français and was promoted to principal dancer in 1983. That same year, Patrick was nominated for a Laurence Olivier Award for his performance in Béjart's Song of a Wayfarer with Rudolf Nureyev. In 1984 he was invited by Peter Schaufuss to join the London Festival Ballet (now English National Ballet), where he danced for six years before joining the Boston Ballet in 1990, under the direction of Bruce Marks. While in Boston he received the E Virginia Williams Inspirational award for his work with the company.
Patrick's repertoire includes many leading roles in works by Ashton, Balanchine, Cranko, MacMillan, Petit, Tetley, and van Manen. Notably, in 1988, Patrick performed Siegfried in the world premiere of Natalia Makarova's Swan Lake at London Festival Ballet (now English National Ballet). That same year, he was voted best dancer of the year by the British magazine, Dance and Dancers. In addition, he has had work created on him by such choreographers as Bohbot, Bruce, Tharp, and Wheeldon, among others. As a guest artist, Patrick performed with the Australian Ballet, the Bayerische Staatsballet, the Deutsche Oper Ballet (Berlin), the Kirov Ballet, and the Noriko Kobayashi Ballet Theatre.
In 2002, he took over the direction of Studio Ballet Colette Armand in Marseille. He has also been a frequent guest teacher notably The Royal Ballet company and school, the National ballet of Canada company and school, Teatro alla Scala company and he is invited regularly in Japan by the Japan Ballet Association to teach and coach.
In 2003, Patrick co-produced Act III of Raymonda for the Noriko Kobayashi Ballet Theatre at Tokyo's New National Theater. In 2006, he was appointed teacher and ballet master of the Teatro alla Scala in Milan. He also choreographed a production of Don Quixote for the Croatian National Theatre in Zagreb, which premiered in June 2010.
In 1998 and 2009, Patrick served as a jury member of the Prix de Lausanne and from 2010 until 2020 he was invited as a teacher and coach for the competition.
In 2010, he was appointed principal of the SF Ballet School Trainee Program and on September 1, 2012, he assumed the position of SF Ballet School associate director. Patrick was named director of the School at the 2017 Student Showcase Dinner, for which he was honorary chair.
Q&A
WHO WAS YOUR MOST INFLUENTIAL TEACHER?
First it was Rudy Bryans. While he was still dancing at Ballet National de Marseille and I was in the school, he would coach me. He had such a powerful presence and meticulous foot work; having trained with the French ballet masters, he demanded a high level of clean technique. Later, my mother was influential in my decision to become a teacher. I watched her teach and she was the best at working with children on correct placement. She could help any child with any physical differences find a way to dance with correct placement.
ARE THERE DIFFERENCES IN THE STYLES OF TEACHING IN FRANCE AND IN THE US?
Yes, but ultimately the differences stem from the different cultures. Ballet has been in development for over 300 years in France, so there is an ingrained sense of tradition from this history.
WHAT IS THE MOST IMPORTANT QUALITY THAT EVERY BALLET STUDENT MUST HAVE TO BE SUCCESSFUL?
Students must be open-minded and like a sponge. They must listen, watch, and be eager to improve. Students must be willing to take risks and fail. Otherwise, they will not have pushed themselves hard enough to reach success.
WHAT IS THE MOST IMPORTANT QUALITY THAT EVERY BALLET TEACHER MUST HAVE TO SEE SUCCESS IN THEIR STUDENTS?
Teachers must approach class with clear communication and empathy for their students to gain their trust. Then, when a teacher needs to be strict and push a student for more, the student will understand that it is for their benefit to help them improve. The teacher will never reach that level of trust needed without empathy and clear communication.
WHEN DID YOU KNOW YOU WANTED TO TEACH BALLET?
I have always expected to teach as part of my ballet career. I first taught when I was 23 and recovering from an injury. I always knew my performing career would eventually come to an end and that I wanted to remain in the studio. There is no ballet without teachers; it has to be passed on from person to person, and I'm incredibly privileged to be able to do this.