A Tribute to Helgi Tomasson
SF Ballet says farewell to its departing director
Artistic Director and Principal Choreographer Helgi Tomasson has led San Francisco Ballet since 1985. Under his leadership, the Company has transformed into one of the world's leading ballet companies, recognized for its innovative focus on new and contemporary choreography, ongoing support of emerging choreographers and the next generation of dancers, and deeply held dedication to the classics.
Tomasson on Film
This year, SF Ballet produced tribute videos to share with audiences before each live program of the 2022 Season. Get a taste of what Tomasson's colleagues and fellow luminaries say about his legendary transformation of SF Ballet.
Through the years
Between the years of 1985 and 2000, San Francisco Ballet delighted in several "firsts." Within Tomasson's first years with the Company, SF Ballet toured to Tokyo, Paris, and London for the first time, and experienced a renaissance in the public eye. The years also marked first Company commissions of choreographers William Forsythe, Mark Morris, Christopher Wheeldon, and Julia Adam, and the first of Tomasson's many major new-works festivals. "I just felt there was no reason for us not to become not only a major national company but an international one," Tomasson remarked in 1989. "And I think we have embarked upon that road."
When the new millennium began in 2000, Tomasson fueled his energy into creating lavish story ballets, touring, championing new works created on the Company's home turf, and reaching new audiences via TV broadcasts.
Join us as we reveal photo highlights from Tomasson's 37 years at the helm of San Francisco Ballet.
1985
1985 – Six months after taking his final bow as a principal dancer at New York City Ballet, Tomasson joins San Francisco Ballet as Artistic Director.
1986
1986 – Confidencias, Tomasson's first ballet for the Company, premieres in January.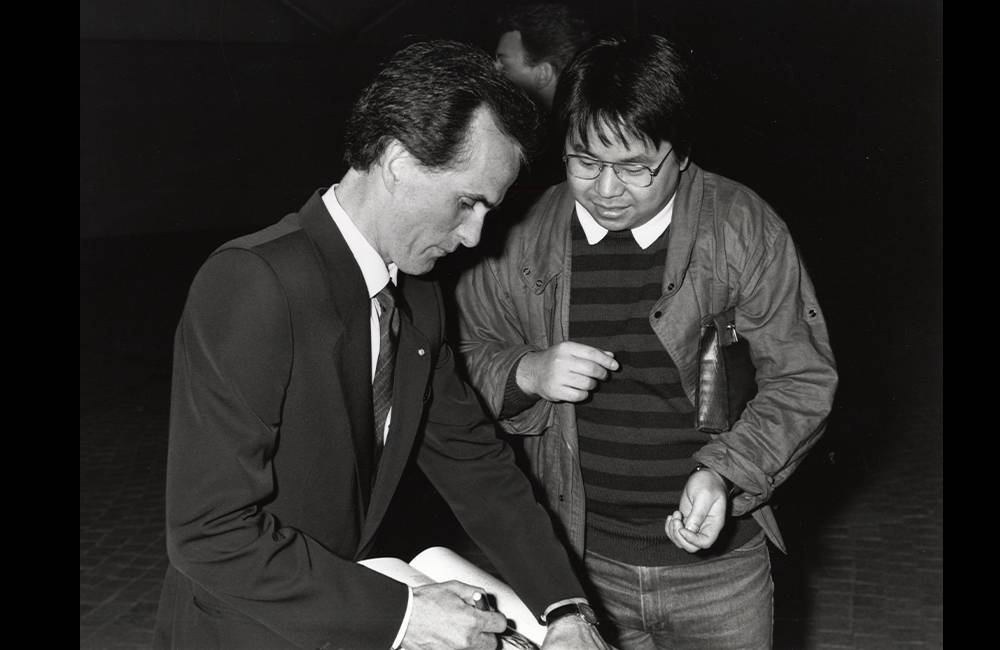 1987
1987 – Tomasson commissions New Sleep, a radical new ballet by William Forsythe, and presents it in Tokyo—the Company's first tour to Japan's capital city.
1988
1988 – Tomasson's first version of Swan Lake premieres, putting "San Francisco Ballet on the international dance map," writes Anna Kisselgoff in The New York Times.
1990
1990 – Tomasson's The Sleeping Beauty premieres.
1991
1991 – SF Ballet tours to New York City for the first time in 26 years.
1995
1995 – Tomasson invites twelve companies from five continents to perform in San Francisco for UNited We Dance, a "strikingly original festival" (New York Times) commemorating the 50th anniversary of the signing of the United Nations Charter.
1995
1998 – Tomasson, who cites Jerome Robbins as mentor, returns to the stage for the first time since retiring from dance to perform as the ringmaster in Robbins' Circus Polka.
1999
1999 – Tomasson's Giselle premieres and the Company debuts in London, England; Nervi, Italy; and Belfast, Northern Ireland.
2000
2000 – SF Ballet presents six world premieres in a week, with new works by Julia Adam, Yuri Possokhov, Christopher Stowell, and Sea Pictures by 26-year-old Christopher Wheeldon.
SF Ballet Tips a Hat
Take a behind-the-scenes peek and discover the impact Tomasson had on the many dancers, choreographers, designers, and staff who worked with him over his 37-year tenure.
Former Principal Dancer Evelyn Cisneros
"My life and dance career have been profoundly impacted by Helgi and his vision for the Company."
Ballet Master and former SF Ballet dancer Anita Paciotti
"We must all tip our hats and raise our glasses to this remarkable man, my friend, Helgi Tomasson."
Peter Boal, Artistic Director of Pacific Northwest Ballet
"As I've watched his ballets over the decades, I see him in each one. Not just the dancer, but the person."
Lighting Designer James F. Ingalls
"I truly appreciated Helgi's wise and thoughtful approach to design and production."
Slide 1
In 1986, one year after his appointment to SF Ballet, Tomasson graced the pages of Dance Magazine
Slide 2
"There is something heartbreakingly joyful about seeing so many dancers looking happy onstage."
–The New York Times on Tomasson's Handel - A Celebration, 1991
Slide 3
"I love to teach. I take an active hand. I certainly can't be a long-distance administrator. Maybe you will be surprised."
–Tomasson in The Los Angeles Times, 1985
Ready to share your own memory of Helgi Tomasson? Submit up to 100 words to press@sfballet.org to be considered for inclusion on this page! Photos encouraged.